Go Gothic – Short Film Competition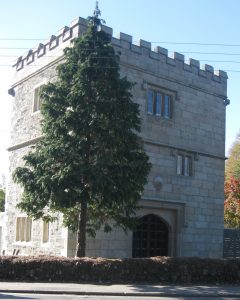 Hosted by Tavistock Library  https://www.facebook.com/TavistockLibrary/ and supported by Tavistock Heritage Trust   https://www.heritageintavistock.org/ as part of 'Tavistock's 1st Gothic and Neo-Gothic Celebration – Literature, Art, Architecture, Theatre, Film and Creative Fun.'
From Saturday the 12th of October and culminating in a market and author event on Saturday the 19th of October 2019.
This new celebration aims to encompass writing, film, drama and art activities.  There will be a Gothic market for writers and traders to showcase their work, and a host of related events
Theme: A short film in the Gothic tradition incorporating folklore and myth. The storyline is much more important than gore, blood and violence.
Style: Any style including documentary and animation.
Prizes: A cash prize will be offered to the overall winner of 30% of all entry receipts. There will also be a second prize of 30% of all the entry fees awarded to a 'Gothic' short film based in Tavistock and incorporating its Gothic and Neo-Gothic Heritage. Additional runners-up prizes of certificates and the opportunity to have your film shown at a small screening event. The prize winners will be notified approximately two weeks prior to the prize giving. The remaining 40% of the entry fees will be used for administration costs and for festival and library events.
Presentation of the Prizes: The prizes presented at an event to be held on when a selection of the films will be shown.
Judging: The judging will be in two stages: a final short list of films will be judged by a panel of 'film buffs' and professionals. Shortlisted entries will be ranked by a final judging panel.
Tips: The judges will be looking for interesting, entertaining and appropriate short films.
Go Gothic – Short film Competition
For Adults (anyone over the age of 18)
Rules and Conditions of Entry
Entries must be in English, original and not previously published in any form or broadcast, and no longer than 6 minutes in length. This time includes the title sequences and credits.
Closing date: May 31st
Results: Available to the public from Friday the 12th of October 2019.
Entries must be entered with a cover sheet with your name, address, telephone and if possible your e-mail contact details, title of your short film and the running time. Entries should wherever possible be uploaded on to https://www.youtube.com. Details of the link to your film should be included with your contact details and emailed to aaron.wilkins@librariesunlimited.org.uk
All entry details must be emailed to aaron.wilkins@librariesunlimited.org.uk Please include details of your method of payment by cheque (in sterling) made payable to The Friends of Tavistock Library or BACS Transfer: Account name: Friends of Tavistock Library,Account number: 32152922, Sort code: 602149. Payment may also be made in cash at Tavistock Library.
Enter fees – First entry £3.00 and additional entries £2.00 each.
Entrants must have obtained clearance for all copyrighted music and other copyrighted material used in their film (or films) entries.
Written permission must have been obtained from all the people actively appearing in the film. This is usually done by way of a release form.
Any subtitles must be embedded in the film.
Copyright remains with the filmmaker.
If acknowledgement of receipt is required, please send a stamped and addressed postcard. All emailed entries will receive an acknowledgement.
The judges' decision is final, and no correspondence will be entered into.
In accordance with the 2018 European Union General Data Protection Regulation Act (EU GDPR) your information will not be kept on a data base or used for marketing purposes and we will only contact you to tell you if your entry has been received or if you have won the competition and when all the logos will be on display.
Entry to the competition implies acceptance of the rules.