During the 19th and early 20th century Tavistock and the surrounding area provided women writers with inspiration. Their literary legacy is very much a part of the heritage of the town.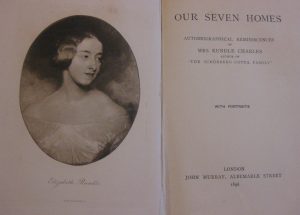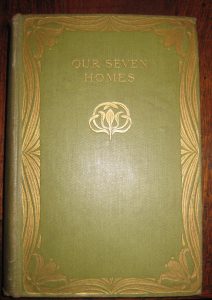 Elizabeth Rundle – Mrs Charles Rundle (January 2nd1828 – 28th March 1896)
Elizabeth was the only child of John Rundle, M.P. for Tavistock. Born at the Bank in Tavistock where she lived until she was eleven. Her early life in is described 'Our Severn Homes' (1896). Elizabeth was 20 when Alfred Lord Tennyson visiting Elizabeth's uncle's house 'Uplands' (Tavistock) praised her poems.
She published over 50 books, wrote and translated hymns. Most of her writing had Christian themes. Her most popular work was 'The Chronicles of the Schönberg-Cotta Family,' (1862). This was about Martin Luther's life and was translated into most European languages and Arabic. Her books are written in a clear, lively style and incorporate descriptions of her travels to Egypt, the Holy Land, Greece and Italy.
Elizabeth died in Hampstead, where in 1885 she had founded the 'Home for the Dying', known as 'Friedenheim' an early example of a hospice.
Below is an extract from 'Our Severn Homes' (1896) by Elizabeth Rundle Charles:
'Last autumn I went once more to this village, Morwellham, after years of absence. I found it silent and lifeless.  Some of the cottages remained. Some new ones even had been built.  But the busy stream of commerce had turned into other channels and left this dry.
The quays once so full of profitable labour were deserted.  The men were all away working in the fields, or in the mines some miles off.  Not a man except one old boatman who recognized me and remembered me was to be seen.  Not a ship was on the river.  From the little inn, once so prosperous the landlady told me all the custom was gone.
The canal, once a new and successful enterprise, was unused, partly because the mines whose ore used to be carried in its barges were closed, partly because the railway had superseded it. Even the opposite woods to which we used to be ferried on Sundays to walk through them to Calstock, the nearest church, were cut down.
To the eye and ear and, in a sense, to the heart, the village lay like a silent sepulchre of the long past I remember."
She also observed that, "In that silent village (Morwellham) were cradled, literally, men and women who are now working out new civilizations in new worlds, in California, in Australia, in Canada.'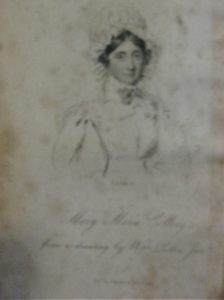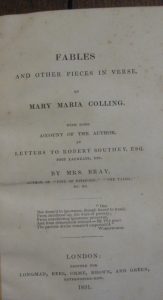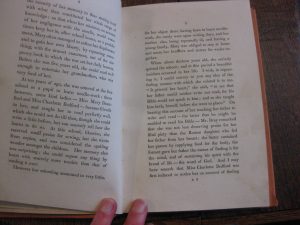 Mary Maria Colling (20th of August 1804/5 – 6th of August 1853)
Mrs Anna Eliza Bray described Mary Maria Colling, who was born and died in Tavistock as of a 'humbler class'. In 1825 after hearing the Rev. Edward Atkyns Bray preach a sermon Mary was inspired to write her first poem. Her writing was encouraged by Mrs Bray, who sent some of Mary's fables to Robert Southey.
In November 1831 Mary's only volume of poetry: Fables and other Pieces in Verse, was published by 'subscription' (raised by Mrs Bray). Before she died Mary spent some time in an asylum and died of 'dropsy' at the age of 48.
Rachel Evans (1809 -1883)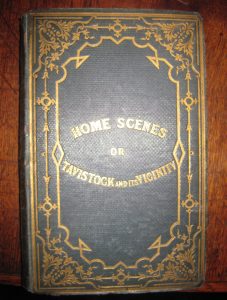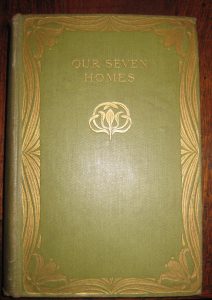 Rachel was the daughter of Rev. William Evans, the Unitarian minister at Abbey Chapel in Tavistock.
In the last 20 years of her life she ran a Ladies' School at 14 Abbey Mead and by 1881 was living as a 'lady annuitant' in a boarding house at 6 Endsleigh Terrace, Tavistock, where she died.
In 1846 she published 'Home Scenes of Tavistock and its Vicinity' This is not a guidebook, but a personal journal giving insights into the inhabitants of Tavistock including 'strangers' into the area.
There were 54 of her pastoral and lyric poetry and pieces published in 1877 including poems about Fitzford Gatehouse, devotional pieces and verses to people she admired including friends.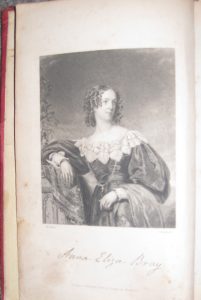 Anna Eliza Bray (formerly Stothard, née Kempe) (1790 – 1883)
Mrs Anna Eliza Bray was a best-selling Victorian novelist and prolific writer, who lived in the vicarage in Tavistock. She was inspired by the area's heritage to write a series of novels including 'Fitz of Fitz Ford: A Tale of Destiny' (1830) and 'Courtenay of Walreddon' (1844).
Her historical romantic novels contain elements of Gothic-style writing. Mrs Bray's A Peep at the Pixies, or Legends of the West (1854) was used by Christina Rossetti, Mrs Bray's cousin, when writing the poem, 'Goblin Market'. Her first husband died in 1821. In 1822 Anna Eliza married Edward Atkyns Bray, Vicar of Tavistock and published her first novel 'De Foix' in 1826.
In 'A Description of the part of Devonshire bordering on the Tamar and the Tavy', (1836) Anna Eliza's describes the history, customs and folklore of West Devon. The idea was first suggested to Anna Eliza by the Poet Laureate, Robert Southey. Southey and Anna Eliza exchanged letters for many years, and he spent a week in December 1836 in Tavistock.
After her husband's death in 1857, she moved to London and continued editing and publishing Bray's sermons, writing books about French history and Devon folklore. Mrs Bray wrote two travelogues, two edited collections, five biographies, a children's book, a book on the folklore of Devonshire, and fourteen novels.
The woman poet about whom little is known: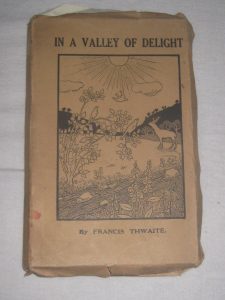 Frances Thwaite, whose book of poetry (undated) 'In a Valley of Delight' was published by The Tavistock Printing Company, Limited "Gazette Office" possibly in the 1920s.
There was also another interesting author, who is a mystery but clearly had a connection with Tavistock as illustrated in her poems.
Lucy Constance Bickersteth 1843-1930, who was a cousin of Edward Henry Bickersteth, Bishop of Exeter. Her poems were published by the Shakespeare Head Press. She was a cousin of Edward Henry. However, she was also the sister of his second wife, Ellen Susanna Bickersteth. Edward Henry (Bishop of Exeter) had a daughter, Effie who married Rev. Henry Startin Vicar of Horrabridge. Sadly, he died in Tavistock aged 42 after only two years of marriage and so it is possible that this was Lucy's connection with Tavistock. She may have stayed with Effie in Horrabridge. She also wrote adventure stories for girls 'The Girls' Budget' 1931.