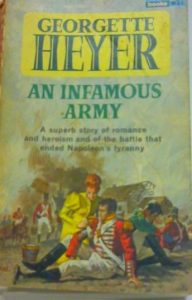 What do the historical fiction novels The Infamous Army (1937) by Georgette Heyer  and Without Warning: The Saga of Gettysburg, A Reluctant Union Hero, and the Men He Inspired (2020) by debut novelist Terry Pierce have in common?
The novels both have battles and battlefields as their primary settings. Secondly, they have both incorporated meticulous and detailed research. In Georgette Heyer's case her descriptions of the battle of Waterloo in 1815 are reputed to have been used as a teaching tool at Sandhurst  (Royal Military Academy) in England, because of the accurate, factual and detailed descriptions integrated into Heyer's novel.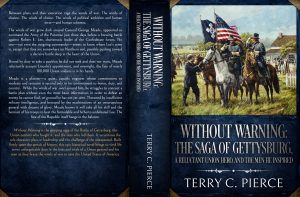 Terry C. Pierce describes his novel in the following way, "Without Warning: The Saga of Gettysburg, A Reluctant Union Hero, and the Men He Inspired, by Terry C. Pierce (Heart Ally https://heartallybooks.com/ Books, June 1, 2020) is a compelling, historically accurate novel that weaves together together the stories of Union General George Meade and his key subordinates and forever changes our vision of the Battle of Gettysburg.
Without Warning is the gripping saga of the Battle of Gettysburg <https://en.wikipedia.org/wiki/Battle_of_Gettysburg> , the Union patriots who fought it, and the man who led them.  It scurtinizes the role character plays in leadership and the challenge of the unexpected.  Built firmly upon the annals of history, this epic historical novel brings to vivid life seven unforgettable days in the lives and trials of a Union general and his men as they brave the winds of war to save the United States of America."
You can find more information about Without Warning on the  author's web page: https://terrycpierce.com/
For those interested in the stories set during the Battle of Waterloo see 'The Waterloo Collection' with an introduction by Professor Richard Holmes published in 2011 by Active Sprite Press (ISBN 978-0-9567654-2-0).