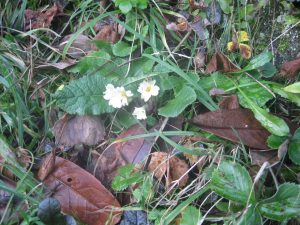 In Devon and Cornwall children used to collect primroses to make primrose wine and cordial. Primroses were also boiled with sugar to make cough syrup.
Primroses have featured in poems and literature. They are to be found in the works of Shakespeare, Robert Bridges, Sir Walter Scott, William Wordsworth, John Milton, Oliver Goldsmith, Jean Ingelow, James Thomson, Robert Burns and William Blake.
The pale clotted cream-coloured flowers with a very faint sweet perfume also inspired Samuel Taylor Coleridge, who was born in Devon in Ottery St Mary on the 21st of October 1772 to celebrate primroses in verse.
To a Primrose by Simon Taylor Coleridge <https://en.wikipedia.org/wiki/Samuel_Taylor_Coleridge>
"The first seen in the season
Nitens et roboris expers
Turget et insolida est: et spe delectat.
– Ovid, Metam. [xv.203].
Thy smiles I note, sweet early Flower,
That peeping from thy rustic bower
The festive news to earth dost bring,
A fragrant messenger of Spring.
But, tender blossom, why so pale?
Dost hear stern Winter in the gale?
And didst thou tempt the ungentle sky
To catch one vernal glance and die?
Such the wan lustre Sickness wears
When Health's first feeble beam appears;
So languid are the smiles that seek
To settle on the care-worn cheek,
When timorous Hope the head uprears,
Still drooping and still moist with tears,
If, through dispersing grief, be seen
Of Bliss the heavenly spark serene.
And sweeter far the early blow,
Fast following after storms of Woe,
Than (Comfort's riper season come)
Are full-blown joys and Pleasure's gaudy bloom."
Perhaps Devon in Coleridge's day and Devon today share something in common an abundance of primroses (Primula Vulgaris).
One short 'constitutional' walk in Tavistock (Devon) is along the old railway track past the back of the old  <https://en.wikipedia.org/wiki/Tavistock_North_railway_station>  that leads to Tavistock Viaduct <http://www.forgottenrelics.co.uk/bridges/gallery/tavistock.html> and over the past few weeks it has been a show case for primroses that have brightened every step of  Tavistockian's 'self-isolation' exercise walks.
The old railway track has become a primrose path and a sign of hope.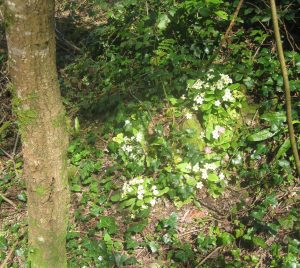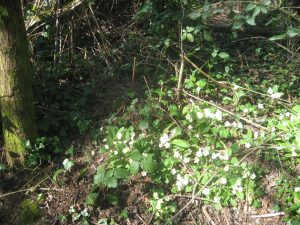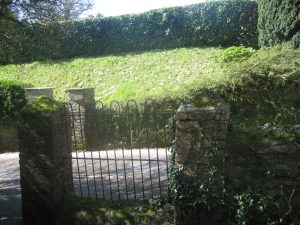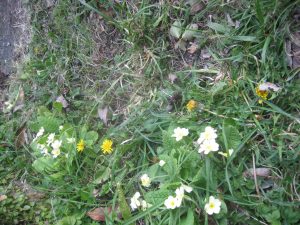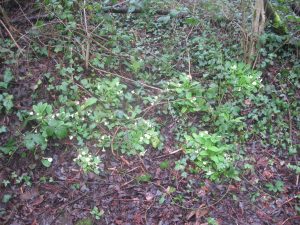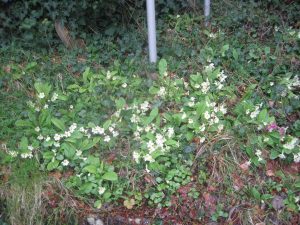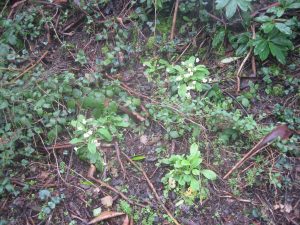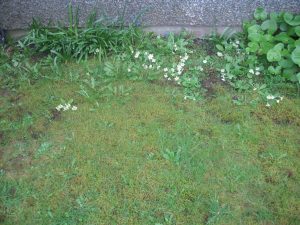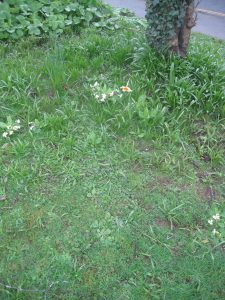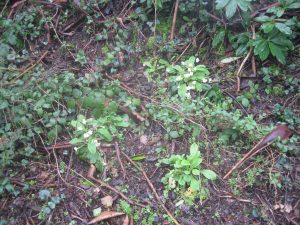 Primrose Day the 19th of April
Throughout Devon and Cornwall (including the Tamar Valley) <https://www.tamarvalley.org.uk/> primroses were picked by children on Primrose day* and these were packed in boxes and sent all over the country to hospitals churches and similar organisations.
*Primrose Day, the 19th of April is believed to have been in honour of Benjamin Disraeli, who died on the 19th of April, 1881. Queen Victoria would send him bunches of primroses as it was reputed to be his favourite flower. She sent a wreath made of primroses for his funeral.
Ivybridge in Devon continues the Primrose Day custom see <http://ivybridge-heritage.org/primroses-from-devon/> of picking, packing and distributing primroses.