Literary Mysteries associated with Tavistock and the surrounding area
Whenever I visit a second-hand bookshop, I can't resist trying to find writers from the past (including novelists and poets), who have either written about Tavistock (Devon, England)  or who came from Tavistock. Then I love to try to find out more about them and why they mentioned Tavistock or what their association is with the town.
There are quite a few authors about whom it appears to be almost impossible with only superficial research to find out any more information.
Have any of you any additional information that can help to fill in the missing pieces about the following authors and their works? If so, please do let me know: myfanwyc@btinternet.com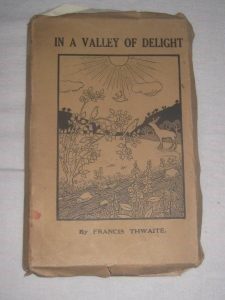 1) Frances Thwaite, whose book of poetry (undated) 'In a Valley of Delight' was published by The Tavistock Printing Company Limited "Gazette Office" possibly in the 1920s. I have been unable to trace anything else about publications by Thwaite or any information about the author.

2) Morice Gerard (John Jessop Teague c.1856 – c.1929). He was educated at Emmanuel College, Cambridge and ordained as a Church of England clergyman in 1880. The National Portrait Gallery (London) has a photograph of him <https://www.npg.org.uk/collections/search/portrait/mw93751/John-Jessop-Teague-Morice-Gerard> He served in Devon parishes 1884–1905. It would appear he wrote Science Fiction, Romantic novels and Historical Fiction, but 'The Secret of the Moor' is the only one that I have come across so far that mentions Dartmoor. Does anyone know of any other novels that mention Dartmoor written by him?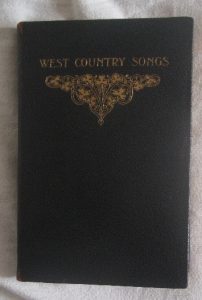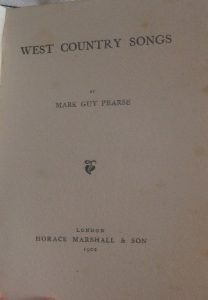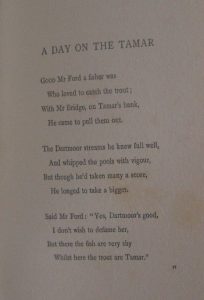 3) Has anyone any idea who wrote the song about 'A Day on the Tamar' from this 1902 collection of 'West Country Songs'?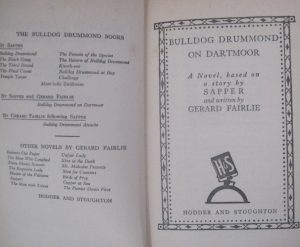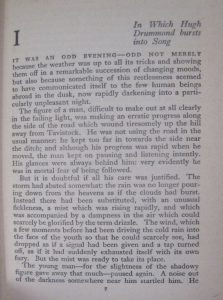 4) Francis Gerard Luis Fairlie (1 November 1899 – 31 March 1983) was a Scottish author and scriptwriter on whom Sapper (H. C. McNeile) supposedly based the character of Bulldog Drummond. After Sapper's death, Fairlie continued the Bulldog Drummond book series. Has anyone any idea if Fairlie visited Tavistock and if Dartmoor or Tavistock are mentioned in any of his other novels ?  The description on the first page of the novel above suggests that he might have done.
Wishing you well with any literary detective work that you might care to undertake and hoping that you and those close to you remain virus free.
With thanks,
Myfanwy